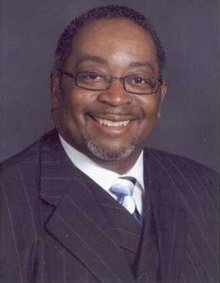 Reverend Dr. Nathaniel J. Wood is a native of York, Pennsylvania where he was a member of the Shiloh Missionary Baptist Church and a graduate of William Penn Senior High School. Dr. Wood was licensed to the ministry in 1976 by Shiloh Baptist Church and ordained in 1981 by the Central Baptist Association of the Pennsylvania Baptist State Convention.
Dr. Wood is married to the former Ramona Pearson of Sanford, North Carolina. They are the parents of two daughters, Naona and Natalie. He is the son of Deacon Major Wood and Deaconess Barbara Wood who reside in Sanford, North Carolina.
Dr. Wood's sole objective is to teach and preach the life, death, burial, and glorious resurrection of Jesus Christ and to be a living example of Jesus Christ before all mankind.